Educator Professional Development Workshops
"Thanks also for hosting Dr. Douglass. It was my honor to introduce her and although I could not attend for the entire day, I heard wonderful reports about her presentation and the resources provided."
Rob Glass, superintendent of Bloomfield Hills Schools, MI
Are you an educator looking for a guest speaker to enhance your classroom experience? Are you an administrator who would like to provide sensitivity and diversity training? Then please meet our resources consultant: Dr. Susan Douglass from Georgetown University.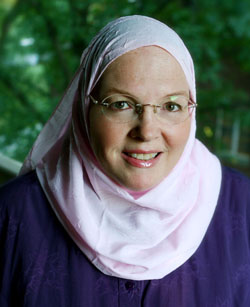 Dr. Douglass is the Resources Consultant at ING MidWest. She joined the Center For Contemporary Arab Studies (CCAS), Georgetown University, in June 2014 as the Center's Education Outreach Coordinator. She received her PhD in world history at George Mason University in 2016, and has an M.A. in Arab Studies from Georgetown University and a B.A. in History from the University of Rochester. Dr. Douglass has developed the education outreach program for the Alwaleed bin Talal Center for Muslim-Christian Understanding at Georgetown University in 2007, served as Senior Researcher for the United Nations Alliance of Civilizations, and managed several grant projects for the Ali Vurak Ak Center for Global Islamic Studies at George Mason University. She has contributed to curriculum projects such as World History for Us All and Children and Youth in History, and she has designed and developed online teaching resources such as The Indian Ocean in World History and Our Shared Past in the Mediterranean. Douglass' major publications include World Eras: Rise and Spread of Islam, 622-1500 (Thompson/Gale, 2002), the children's book Ramadan (Carolrhoda Books, 2002), and the national study Teaching About Religion in National and State Social Studies Standards (Freedom Forum First Amendment Center and Council on Islamic Education, 2000).
Georgetown University's Center for Contemporary Arab Studies and the Prince Alwaleed Bin Talal Center for Muslim-Christian Understanding jointly offer free professional development workshops at the venue of organizers' choice. The workshops are customized to meet the needs of the organizer—a school district, community center, university department, or private school. These workshops address the needs of teachers for content knowledge, teaching resources, and constitutional requirements, giving them confidence that they are on solid legal and pedagogical ground.
The varied content of a full-day or half-day workshop or multiple day series provides basic knowledge about Islamic beliefs and practices, issues in world history and geography curriculum, contemporary affairs, integration of arts and sciences, material culture and trade across the centuries. Content modules are designed with state standards and educators' needs in mind. The benefits to teachers and students go beyond the topic of Islam, addressing general issues and resources for teaching about all of the world religions in history, as well as providing thought-provoking ideas about teaching world history, world geography and world cultures. Every topic in the flexible, customizable workshops is paired with teaching material that is readily available in print or online, correlated to national and state academic standards. The teaching resources meet accepted guidelines for constitutionally appropriate instruction about religion. The lessons are designed to help learners engage with excellent scholarship in the field, so that in addition to content knowledge, they develop the critical thinking and geography skills required in every state and district program. For more information and to discuss the time, place, and content of your organization's workshop, contact INGMidwest at info@ingmidwest.org
These workshops are made possible by a grant from the United States Department of Education, which is funding a National Resource Center on the Middle East and North Africa, and with additional funding from the Alwaleed bin Talal Center for Muslim-Christian Understanding at Georgetown University."